Bing recently announced an update to Bing Maps that will allow users to explore the interior layout of over 900 locations with the simple click of a mouse.  While using the service, users can access the indoor maps of an available venue by mousing over their location and clicking it.
This is a powerful improvement that increases the usability and usefulness of Maps for Bing, especially when compared to their competitors.
Here is what Google Maps shows you when you search for the San Diego International Airport:
If you can see it, the mouse pointer is hovered over the San Diego International Airport.
Here is what Bing Maps now does under the same circumstances: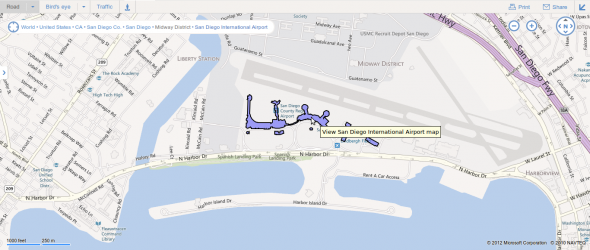 Notice how the outline pops out? Users can click on the foot print of the airport and see a map of the interior of the airport.  Here is a close up of terminal 1:
The mouse is now hovering over the Southwest terminal.  It is pretty nice to know, before you even get to the airport, where you will need to be to check your bags or get your boarding pass – especially if you have never  been to the airport before.  Time can be save.  Stress can be avoided. Serenity can be found.
Like to eat?  Bing Maps will have you covered by displaying all the shops and restaurants inside, even those that lie past the security gate.  Just check out this screenshot from Concourse A1:
Kudos to the team behind Bing Maps for getting this right.
Source: All Point Blog, Bing Maps Blog