We are all aware of the many different free GPS tracking software applications that are available for cell phones. The different developers and tracking companies who provide this software have done so out of the goodness of their hearts and the hope that the advertising in the application or the up sell market is going to make them some money. Even if they do not monetize these tracking systems they are at least hoping that the reputation they establish will benefit them in some other way in the future.
Either way, you have a market today where there are dozens of 100% free to use cell phone GPS tracking systems. But the question is, are these free cell phone tracking systems really free?
I think that as we look deeper into this issue we are going to find that the answer is that it depends on a person's particular circumstances. But in order for any of the discussion of cost to make sense to us we first need to establish a basic understanding of how free cell phone tracking actually works.
How Free Cell Phone Tracking Works
When coming to this question we need to divide our understanding into two distinct parts. The first is how does the cell phone determine where it is in the world. The second is how does the cell phone communicate that information to outside parties. Once we understand these things we will see just how free free GPS tracking really is.
For the first part we need to look at the principle of trilateration. This geometric rule says that if you know your distance from three or more known points you can determine your exact location. Cell phones that can be tracked tap into this geometric principle via GPS. The way this works is like this: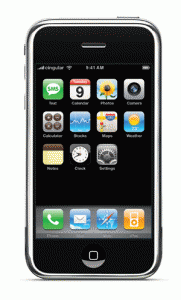 Certain phones (iPhones, Blackberries, and other smartphones) have a GPS receiver installed in them when they are made. Once the phone is bought and activated by a user the full functionality of the GPS can come alive, all it needs is for the cell phone to be turned on (some GPS functionality, like GPS tracking, will also require that the cell phone be receiving a signal, but more on that later). If you do not have a GPS-enabled cell phone then you cannot take advantage of the free cell phone tracking available for download on the Internet.
The second part we need to understand about GPS tracking with cell phones is how these devices transmit the position information that they gather from the GPS. For this, cell phones are going to need to have access to one of two things: the Internet or GPRS. Once the cell phone has its location from the GPS receiver it will then process filter it through the free cell phone tracking software. This software will package the information in such a way that it can be made available online for the for the users friends or family to view.
If the free online GPS cell phone tracking software is a real time tracker, this information is going to be sent in a nearly continuous basis for as long as the program is running on the phone and the phone is receiving a signal from a cell phone tower. If either of these items is lost, so is the real time tracking ability of the software.
So now that we have a cursory understanding of how free cell phone tracking services work I hope that it is fairly clear how this can be less than free for some people. The main points of cost are in the cell phone itself and in the data plan that you must have in order to make use of the tracking software.
The Costs: GPS Enabled Cell Phones
The free, online GPS cell phone tracking software ceases to be free when you have to upgrade your phone to one that is compatible with the software and that has GPS installed in it. Some of these phones can be pretty pricey. An iPhone 3G will run you $99 and a Blackberry Curve can run you $129. This is certainly not free. Now if you already owned one of these mobile phones then downloading the free GPS tracking software onto your mobile phone isn't going to cost you anything extra.
This is why up above I mentioned that the answer to the question posed in the title of this article was, "It depends."
The Costs: The Data Plan
The second cost that is going to be associated with GPS cell phone tracking is going to be that data plan on your phone. I recently looked to see if this was something that my wife and I should get on our cell phone plan. She was about to get a free upgrade for her old phone and some Blackberries were available. But in looking at the data plans her carrier offered it would cost an additional $30 a month. Since we wouldn't have gotten the data plan otherwise this seemed like a lot of money to us.
As a result, she went with another phone instead (the LG Envy) because there was no use in getting the Blackberry since we weren't going to pony up the cash for the data plan. Paying $30 a month will quickly turn into $360 over the course of one year. That is a lot to be paying for a "free" GPS cell phone tracking service.
Can GPS Tracking Truly Be Free
But this leads us to another important point – GPS tracking is probably never going to be free in my lifetime. There are too many powers that be that have a vested interest in making me pay for this type of information. If it is not the GPS manufacturers, it is going to be the cell phone companies that I would be using to send my position information wireless to my wife who would be sitting at a computer, checking out where I am online. At almost every point in the system there is someone to pay. So, if you are already paying all those people then you can say that your cell phone tracking is free – but it is not truly free.