Free.  It is a word that we all love to hear.  This is especially true when it comes together with the words GPS maps.  It is also something that many of the current GPS manufacturers do not offer to their customers.  While many do allow recent purchasers to update the map on their GPS device to the latest version within 30 days of purchase, they then go and charge you anywhere between $50 and $100 for each subsequent map update.  If you are the type of person that likes to have the most current maps every year that can end up costing a lot of money.  Free GPS maps is certainly better than paid GPS maps.
Alternatively, some companies (like TomTom) have turned to crowdsourcing map updates so that users can help each other make the maps on their navigation devices better. TomTom's service is called MapShare and allows users a high level of control over how they are able to update their maps using user generated content for free.  They boast to have the largest navigation community in the world, and they probably do since TomTom is a truly international community.
But the maps provided by TomTom and their MapShare service are not going to help every type of GPS enthusiast.  For starters, the update data can only be used by TomTom devices.  This leaves out those that use Garmin, Navigon, Lowrance, Magellan, and other GPS units from the wide range of GPS manufacturers.
The second problem is with manufacturer specific crowdsourcing efforts is that they only improve the maps for that specific manufacturer.  In my view, this has two major problems.  The first is that is it creates an inefficiency in the system.  The second is that the effort only benefits a select group of individuals.
So how can we create free GPS maps that all people can use irregardless of the particular GPS tracking device that they use?  Use Open Street Maps, that is how.
What is Open Street Maps?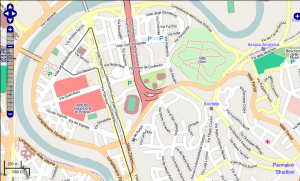 Open Street Maps (OSM) is a really cool user driven world map.  It takes data taken from GPS tracking devices and turns it into information that is publicly available for any one to use for any reason.  It is much different from Google Maps in that the data is truly free – as in free speech – and is not bound by any limits or conditions – as in free beer.  This makes it somewhat superior to applications like Google Maps since it can be used in new and inventive ways without having to worry about lawsuits or other unpleasant occurrences.
Who benefits from Open Street Maps?
The short answer is everyone.
While it may not be the best GPS map in the world, OSM is at least among one of the best free GPS maps available.  It has data from all over the world and gives users access to everything about the map.  It also has a lot of things that many traditional navigation GPS maps simply don't have.  Bike trails, hiking trails, shortcuts – these are all user entered, which can make them extremely useful for travelers who are trying to go to a new area where they may never have been.
Here is a list of people who might benefit extensively from OSM:
Cyclists – Knowing the streets where biking is acceptable is important for those moving to a new area, especially if you use your bike as your primary mode of transportation.
Hikers – Getting quality map data for a hike out in the wilderness can sometimes be pretty difficult.  If your destination is popular or you have friends that you like to exchange data with, doing so on a traditional GPS device can be problematic.  But with OSM you can do tap into the popularity of a locale or share mapping data with a friend very cost effectively – for free!
European travelers – OSM is much bigger in Europe than it currently is in the USA.  This means that instead of having to drop a nice chunk of change on some new European maps on your Garmin you can use OSM to get free Garmin GPS maps instead.
What can you do with Open Street Maps?
My one complaint with OSM is that it is not readily apparent how one can use the mapping information on your own GPS unit.  Most people are going to be looking for free downloadable GPS maps, and if OSM can't provide that then they are going to look somewhere else.  Can someone use Open Street Maps to download free GPS maps?
Again, the short answer is yes – but it does get a little complicated.
Each specific GPS manufacturer has its own hoops and hurdles to jump through and over if you are going to want to use OSM data on these GPS devices.  If you are looking for a few guides on how to do so for the major GPS brands here they are:
In almost every case you are going to have to go to a third party that is going to allow you to use the OSM data on your GPS tracking unit.  To me, this is the biggest flaw of the whole OSM system – no clear method of using the data on your GPS.
To be honest, this is expected.  There are just too many different type of devices out there and too many companies trying to keep their piece of the pie their piece of the pie.  TomTom, for example, guards their mapping information so tightly that you have to do a serious work around just to use the OSM data on it.  Of all the companies listed above, Garmin is probably the easiest to use – but even with then you have to do some work to get the maps working right.
So while it is super cool that OSM is provided free GPS maps, they have a long way in actually making them useful for a large part of the GPS using public.
With this problem, should I still use Open Street Maps?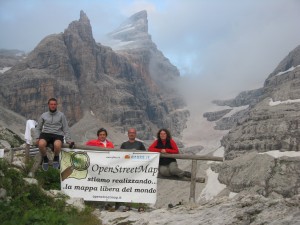 Yes!  Where are you going to get free, open source maps from if you don't use OSM?  Well, there are lots of other places to get them, but nobody does it quiet like OSM.  You also have to realize that the more people who use something like this the better it gets for everyone involved.  Many hands make the work light, so it becomes very cool when you have thousands of people in your area working toward mapping out things for everyone for the common good.  Just imagine what it would be like if people who went to Yosemite got together and created awesome, free Yosemite GPS maps.  Any hiker who went there would benefit from everyone's efforts for years and years after you death.  You could end up helping hundreds of thousands of people enjoy the outdoors because of your contribution to OSM.
When it comes down to it, when you want free GPS maps the best place to go is to the people.  Open source, crowdsourced solutions are going to provide accurate information that does the most good for society and for the individual.  When information is free, especially GPS tracking information, all people benefit.  While there are some things that Open Street Maps can do to improve the accessibility of the information, it is already an exceptional product.  I hope that it catches on quickly so that future generations of GPS users can benefit from it.