Keruve, a Spanish GPS tracking device manufacturer, has recently announced its Keruve 2010 GPS tracking system. This system will build off of its already existent GPS tracking watch and portable GPS tracking receiver. The way the current model works is that the person who needs to be tracked wears the GPS wrist watch that is part of the system. Then, when the tracker wants to know where the trackee is, they just press a button on the receiver and they are given the person's location to the nearest street address.
This is a relatively simple concept to those that are familiar with personal GPS tracking systems, but something that might sound revolutionary to those just becoming aware of this powerful technology.
But the new Keruve 2010 improves upon this design in several different ways. For starters, there has been improvement on the appearance of the GPS tracking watch that is part of the system. Now there are far more models to choose from including three watches for men, two for women, and a unisex model. All watches now have larger numbers for easier reading by young and old users alike.
It also now includes no less then four positioning systems to cycle through in cases where, for whatever reason, the most accurate GPS system is not available. While the most accurate is still going to be GPS bases, it also features a Keruve indoor position finder when the personal GPS tracking watch is unable to find a GPS signal, a VisionCellid location system, and a GSM network system. This is very useful because in almost any circumstance you are going to have some idea where the watch is.
They have also made some significant improvement to the GPS tracking receiver. There are now clearly labeled buttons on the touch screen, making it easier to find what you are looking for. They have expanded the display to 4.2″ and increased the font size of the displayed addresses to improve readability. A new ergonomic design rounds out the receiver improvements.
While the already existing model was a solid, though expensive, real time GPS tracking system, the improvements introduced by the Keruve 2010 should provide a better user experience in both terms of ease of use and functionality.
Keruve GPS Tracking System Marketing
Below are a few of the ways in which the Keruve tracking watch was marketed in the native Spain. The commercial below is in Spanish, but I have translated the information about the video into English using Google Translate with some minor clean up:
Presentation Keruve. Keruve as a direct locator specialist for people with Alzheimer's disease in the first stage. With the Keruve GPS watch, a person with Alzheimer's can continue walking as they did before, and the family with the receiver can know where the Keruve watch is whenever they want.
As you can see, people on the other side of the Atlantic run into the same problems that Americans do. We all have children that can get lost in the mix and milieu of people in our modern societies. We have older relatives whose bodies have outlived their minds and suffer from the crippling disease of dementia, with the most common manifestation being Alzheimer's.
The next video is more of a news story and is particularly focused on the use of the Keruve GPS tracking system in Alzheimer's patients:
Demonstration of the Keruve personal locator at the residence Santa Elena in Seville, Spain. Video provides an explanation of performance and interview with one of the inventors and the director of the association of relatives of Alzheimer patients in Seville, Spain.
Now that we have seen that this device is marketed both as a child tracking system and an Alzheimer's tracking system let's briefly discuss both of these applications.
Keruve GPS Tracking System For Kids
Tracking systems for kids are nothing new on GPS For Today. We have seen the Amber Alert GPS tracking system and how it tries to provide reliable information for parents on the location of their children. Unlike the Amber Alert GPS, the Keruve GPS tracking system for kids uses a watch rather than a stand alone tracking unit. This has its advantages and disadvantages.
The first advantage is that the watches are now much more natural looking than they were before. One of the biggest issues that people have with GPS tracking watches for kids is that they are often too bulky and obviously a safety device. Not so with the Keruve GPS watch. It has a sleek design that makes it look like a real watch. Though it might be too large for the wrists of the smallest children, it should work fine for teenagers and some pre-teens.
Another advantage of a watch is that they are usually on the wrist of your child. Sure, sometimes kids take off a watch when they play – but the Keruve is not able to be taken off unless they have a special tool to do so. Without that tool your child will be wearing that watch until you take it off from them.
Some disadvantages of a watch are that they are easily discovered and removed by kidnappers, they suffer some serious wear and tear if your child is a boy and they like to adventure, and that they must be worn to be effective. While these disadvantages can all be avoided, it does take a considerable amount of effort to do so.
Keruve GPS Tracking System For Alzheimer's
A relatively new and novel idea is to use GPS tracking for Alzheimer's patients. This is a great idea since a good portion of those that suffer from this form of dementia will "wander" at some point. There can be little that is more disturbing than loosing a elderly relative who appears to be healthy and sane but is unable to remember the recent history. They can sometimes suffer greatly when they are lost and separated from their loved ones and familiar surroundings. Real time GPS tracking systems are designed to help track down Alzheimer's suffers quickly so that they can be restored to comfortable and safe surroundings.
GPS tracking watches for Alzheimer's patients work well because they are attached to the wrist and if the patient has had a long history of wearing a wrist watch they should have no problem wearing this GPS device. If they do not regularly wear a watch then it might be difficult to get them to do so on their own. If this is the case you might want to pursue other avenues of tracking them or talk with your doctor to come up with ideas on how to introduce a new routine into their life.
Keruve 2010 GPS Tracking System Screen Shots
Here are some screen shots from the Keruve 2010: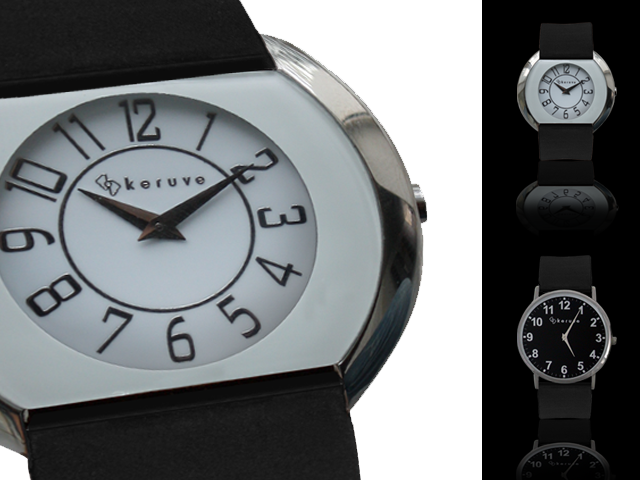 As you can see the Keruve 2010 GPS tracking system is an interesting bit of technology. Marketed as a child and Alzheimer's GPS tracking watch it offers effective tracking services in a user friendly and Internet-less environment. Wherever you have a cell phone signal you can use the Keruve GPS tracking system, making it great for those in urban settings who want to track a person via GPS.