This contest has officially closed.
Want to win a free SPOT GPS Satellite Messenger with one year of service? Then you have found the right place. All you need to do is leave a comment at the bottom of this post saying why you would like to win and you are entered into the contest.
If you want more ways to win, just head over to our official contest page and check out the four more things you can do to increase your chances of winning. If you make use of them all, you can have a total of 74 different chances to win!
About the Spot Satellite Messenger Tracking Device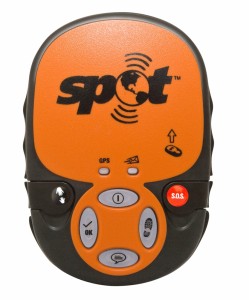 This is an extremely powerful and useful personal GPS tracking device that can be utilized by many different people in many different situations. One of the main reasons for this versatility is that it works 100% off of satellite technology, making it usable in conditions where most GPS trackers will not work. It is especially great for those with a love for the outdoors since their adventures can often take them far from family, friends, and society.
The SPOT Satellite GPS Messenger is a GPS tracking device and wireless communication device rolled into one. While there currently is not a voice functionality on this unit, one can still communicate in several nuances ways with this device. For example, one can:
Send a SOS/911 message. If you are in a serious accident or situation this one button call for help can be, quite literally, a life saver.
Send a Help message. If your situation is not dire but you need some help from a friend then you can notify them of your need with the press of a button.
Check in with loved ones with an 'Ok' Message.
Send a custom messages back to your family with your GPS determined location.
With four distinct ways to communicate with someone, the SPOT Satellite GPS Messenger is very useful tool to have out in the wilderness for extended periods of time.
Here is a cool little graphic about the coverage area for this tracking device: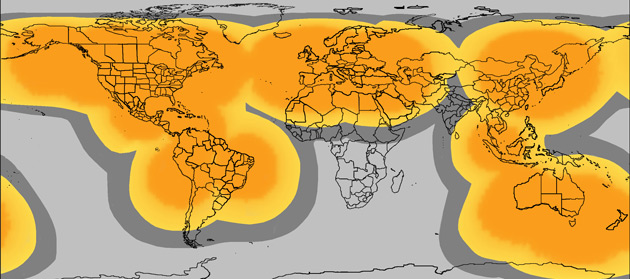 If you are interested in learning more about this messaging device here are some articles that we have written up about it:
Remember, if you want to win the simplest way to enter is to just leave a comment below briefly explaining why you want to win a second generation SPOT GPS Satellite Messenger. If you want additional ways to enter to increase your chances of winning check out the ways to enter this giveaway.
This contest has officially closed.